2 '' Bluetooth Mobile Android Dot Matrix Printer: Printer OEM / ODM Dot printer interface-type verwijst naar hoe de dot-printer is aangesloten op het computersysteem. Momenteel zijn veelgebruikte printers een parallelle poort (ook wel IEEE 1284, Centrics genoemd), seriële poort (ook wel RS-232-interface genoemd) en USB-interface .
Kenmerken :
1. Papiersensor: LED-indicator knippert wanneer het papier op is en ondertussen alarm;
2. Afdrukken Command: ESC / POS compatibel met opdrachten set;
3. Vermogen: 1 4 00mAh oplaadbare li-ionbatterij;
4. Ondersteuning van Android- en Windows-apparaten (IOS optioneel)
5. Ondersteuning van elke taal, Android Handheld Dot Matrix Printer
6. Bluetooth V4.0
7. Eenvoudig papier laden
8. Goede kwaliteit met concurrerende goedkope prijs.
9. Printer Dot Matrix Bluetooth, Dot Matrix Printer Handheld, Oem / odm-printer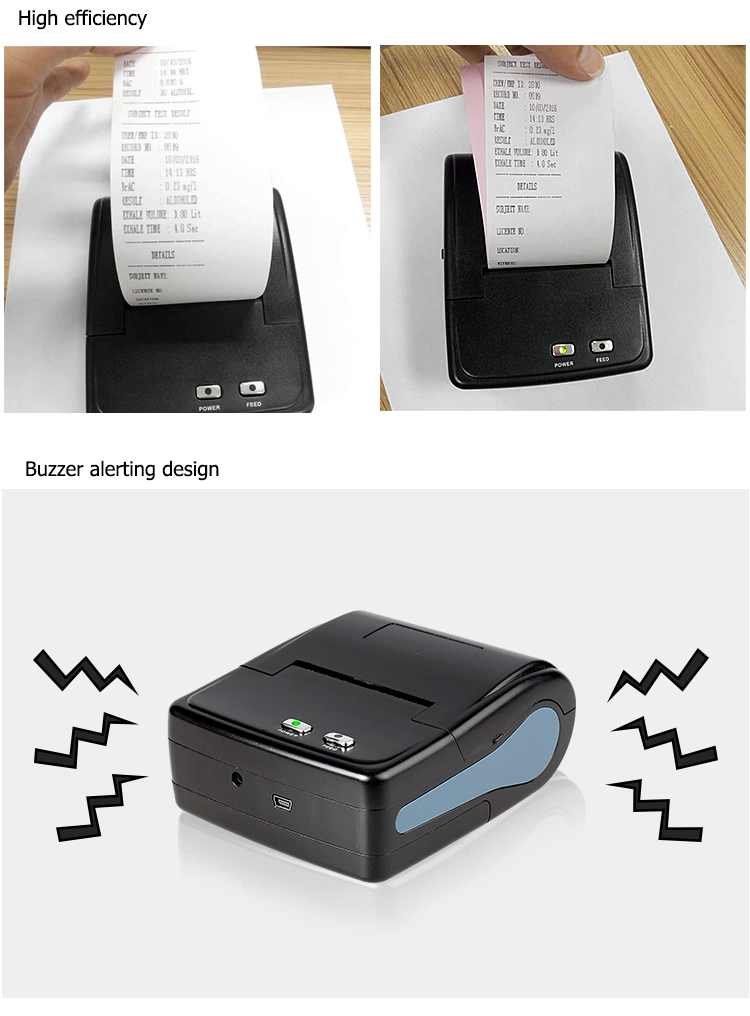 Specificatie:
Printing Method

Thermal Line

Support System

Android/IOS (bluetooth) and Windows system(USB)

Effective Printing Width

48mm

Paper Width

79.5±0.5mm(3 inch)

Dimension

120mm*100mm*50mm

Printed Line Width

24 Chinese/Line 48 English/Line Or 36 Chinese/Line 72 English/Line

Encoded Code

GBK,BIG5,Unicode(UTF8)

Build-in Font

ASCII Font(12*24 8*16) GBK(24*24 16*16)

Printing Speed

70MM/S

Printer Life

60KM(25% printing dentsity or below)

Printing Content

English, numbers, various symbols, characters, pictures, 1D and 2D code printing

Resolution

8 dot/mm,203DPI

Data Communication Interface

USB 2.0 and Bluetooth V2.0

Battery

1400 Li-On rechargeable battery

Charge Methods

Standby Charge

Anomaly Detection

Paper-End Alarm,Low Battery Alarm

Put Paper Method

Clam Sheel Method

Paper Cut Method

Manual Tearing

Instruction Set

ESC/POS Compatible Instruction Set

Locate Mode

Black Mark Location,gap dentification

Power Port

DC 9V,3A

Accessories

Li-ion Battery,Power Adapter 9V,3A ,

Development CD,Instruction,Printing Paper,charging cable.
Garantie en retour
1.Alle onze producten en accessoires worden 3 keer getest voordat ze worden verzonden.
2. garantie is 12 maanden, als er geen door de mens veroorzaakte probleem is, zullen we vervangen of repareren voor uw vrij. 1% extra apparaat en reserveonderdelen worden verstrekt bij bulkbestelling
3. wij bezitten de beste service na verkoop, als er problemen zijn gebeurd, ons team zal ons best doen om op te lossen voor klanten.
4. Alle goederen worden geïnspecteerd vóór verzending, dus als u niet tevreden bent met de aankoop. Kunt u de items in een week ruilen.
5.Alle retourartikelen moeten in de originele staat, incledingdoos en accessoires zijn. Gemaakte defecten worden niet gegarandeerd, zoals gebroken, bekrast enzovoort.
6. stuur door EMS of uw lokale post wanneer terugzenden.